Our State of the Art Facility!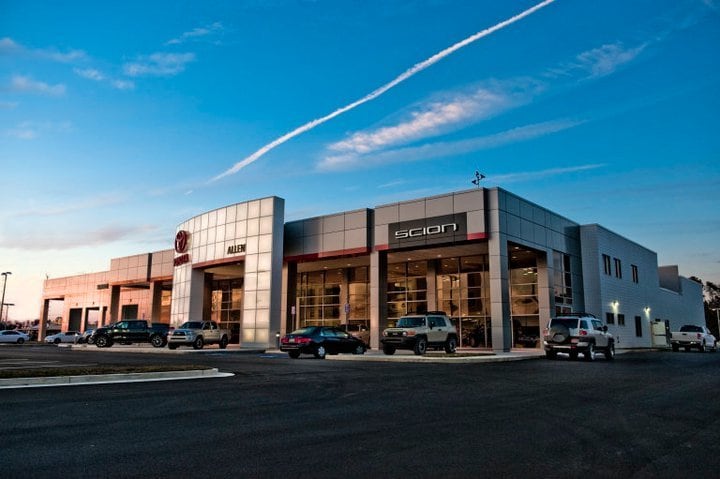 Mission Statement
"Our mission is to provide our customers with an experience that is unsurpassed. We will treat every customer fairly, honestly and respectfully with the intention of them becoming "Customers For Life." We believe that both our customers and our associates are the road to success. Our success is determined by respectfully providing the highest quality service to every customer and associate in a timely fashion."

WE PROMISE TO HAVE:
A Clean and organized facility
Large, Comfortable Waiting Area
Large LED TV
Family Friendly Music
Complimentary

 Customer Wi-Fi

Complimentary Computer Workstations
Complimentary Coffee Bar
Complimentary Bottled Water
Soda and Vending Machines
Complimentary Theater Style Popcorn
Covered service drive
Friendly and knowledgeable staff
Large salt-water aquarium
Family Business...
The Allen Family has been serving the automotive market on the Mississippi Gulf Coast for over 35 years! The Allen Automotive group started with Mr. Bert Allen who opened dealerships on the Gulf Coast in 1971. He and his son David Allen opened Bert Allen Toyota in 1987 with David as General Manager. In 2001, David Allen fully acquired the Toyota Franchise and renamed it Allen Toyota. The Scion franchise was added in 2004. In 2007, the Allen family saw a shift of generations. Mr. Bert Allen retired from the business completely and David Allen's sons Jonathan and Scott Allen joined the management team at Allen Automotive Group.
This is a FAMILY business. The Allen family is on site everyday to ensure that you get the best customer service. We are dedicated to providing every customer with an enjoyable, quick, and honest experience. Bring your family to meet ours and remember what it's like to deal with a true family business. Toyota is known for its exceptional quality and economy. Toyota is the perfect family vehicle with a model to fit any consumer. The Toyota cars have been known for this quality and economy ever since Toyota first debuted in America in 1957. First of all there is the Best Selling Car in the World, the immaculate Toyota Camry. Next, we have the economy cars which include the Yaris. Also, starting in our line up of excellent Toyota sedans is the Toyota Corolla, which is the best selling vehicle of all time on the planet! We also have the luxurious Toyota Avalon. For larger families we have the Sienna mini-van which is, honestly, a Lexus among the Toyota line-up. When it comes to technology Toyota is also Number 1. The Toyota hybrid system known as Hybrid Synergy Drive which was originally developed in the Hybrid Prius is the standard for Hybrid systems. Toyota's Hybrid Synergy Drive is available on the Camry, Highlander, and it is the only power system for the Prius. The Toyota Prius is the best selling hybrid on the market having sold over 1,000,000 vehicles and it's in its fourth generation! Toyota started the crossover market with the original Rav4 which is in its third generation. And then there is the phenomenal new 2016 Highlander, WOW! Toyota also has a collection of the best SUV s in the world. For the off-road enthusiast there is the retro-styled FJ Cruiser. For a more practical on and off road SUV the all new 2016 4 Runner is the perfect choice. Then there is the all mighty king of Toyota SUVs the Sequoia. For those of you who need a little (actually a lot) of luxury with there SUV the Land Cruiser is a dream come true! Both the Sequoia and Land Cruiser are in stock today.  2016 Models of all Toyota vehicles have been trickling in, check out our inventory page to view them in stock!One thing Toyota knows is Trucks. The Toyota Trucks have an impeccable history of quality and durability. The mid-size Toyota Tacoma is the truck that eats impossible for breakfast. The new 2016 Toyota Tundra is the biggest, baddest, most versatile truck Toyota has ever made. It comes with an available 5.7 liter V8 that produces 381 Horsepower and 401 ft lb of torque! This truck is taller, longer, and wider than the previous Tundra! This year's Tundra has an impressive 31 different configurations, so there is no doubt that we will be able to find the perfect truck for your exact set of needs!
Come see us here at Allen Toyota and find out how purchasing and servicing a car SHOULD be! We are Toyota and we are the Mississippi Gulf Coast.  We are proud to provide residents of  Gulfport, Biloxi, Ocean Springs, Pass Christian, Wiggins, Bay St. Louis, Slidell, New Orleans, and Mobile, AL with excellent vehicle choices.  We also help all of Harrison County, Hancock County, Jackson County, Stone County, Pearl River County and George County with their car buying needs and wants.  Allen Toyota Scion Hyundai has a huge inventory of the best Toyota vehicles Scions and Hyundai vehicles as well as the best quality pre-owned ( used cars ), Toyota Certified Used Vehicles or TCUV, Retail parts and Accessories and Automotive Service.  Let us assist you the way you deserve! Come find out what the Allen way is and what you have been missing all this time.
At Allen Toyota Scion, we are dedicated to customer service. It is evident in everything that we do and everything we stand for. This dedication to service is the reason for our success. Allen Toyota Scion has been an award winning dealership since the Allen's first bought the franchise.  We have won the 2008, 2009, 2010, 2011 eBusiness Elite Award for our online practices and dedication towards our online customers.  In 2009, 2010, 2011, we were listed in the top 10 of dealerships in Gulf States Toyota for our eBusiness online practices.  Also, for 2009 we were awarded the Service Excellence Award for our processes and customer service.